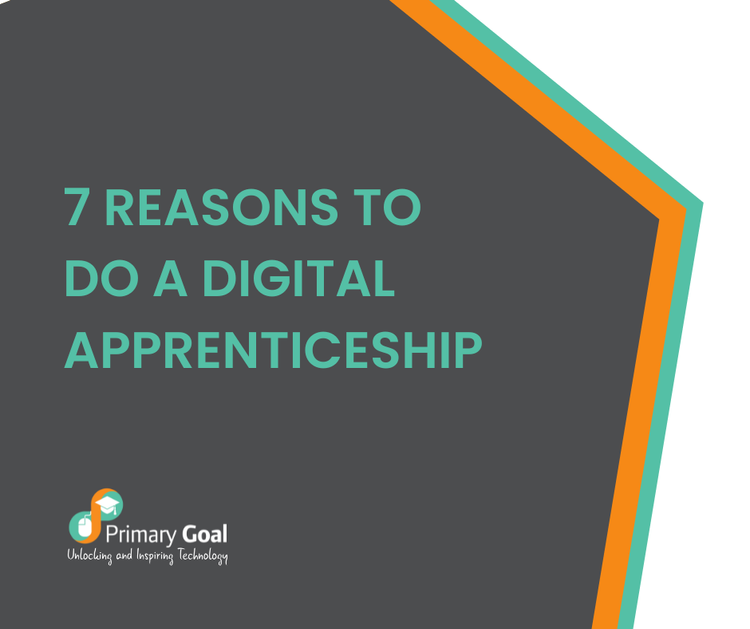 We celebrated our 7th birthday recently. During a team away day we had the chance to mark the occasion. As we work remotely it was a great opportunity for some of us to meet in person for the first time.
We also had the chance to reflect on progress over those seven years.
We are now a team of 15 and continually recruiting for high quality driven staff. We're delighted to have supported hundreds of learners and employers on their apprenticeship journeys. We've had some fantastic results across our Digital standards, with our Digital Support Technician apprenticeship currently achieving a 100% Pass Rate with a 72.7% Distinction Rate at the final assessment.
 7 reasons to do a digital apprenticeship
As it was our 7th birthday we came up with seven reasons to go for a digital or IT apprenticeship:
A real job, with real pay – salaries range from the minimum wage to over £22,000 per year. Earn while you learn.

Learn new skills – we offer a true alternative to A-Levels and university, and you'll learn to solve IT issues, support network upgrades, use Microsoft Office or Google effectively, and working with a range of existing and new technologies

Make new friends – our apprentices love being able to help each other. Join us and you'll benefit from a supportive community of other apprentices, along side our coaches

Learn to work in a professional environment – apprenticeships offer valuable experience of real-world working environments

Real achievements – your role and responsibilities will have an impact on the world around you, whether that's for businesses or schools. Our apprentices have helped schools to implement remote learning, and run after school clubs.

Leads to professional career opportunities – our apprentices go on to a wide range of roles, including IT Managers, teachers, on to further learning, or even setting up their own IT company. Our coaches also help with career guidance and preparing for interviews

Industry recognised qualifications – everything you learn, and every qualification you achieve, is geared towards the profession you've chosen. All our qualifications are recognised in their industries.
Recent Posts
Louise.Salmon@primarygoal.ac.uk
In 2022 Primary Goal secured £580,000 of apprenticeship levy funding for St. Bart's Multi-Academy Trust which secured over 40 places
Louise.Salmon@primarygoal.ac.uk
Primary Goal's Digital Champion Apprentice Nicola Swady swept the board at the inaugural The News and Observer Series Apprenticeship Awards