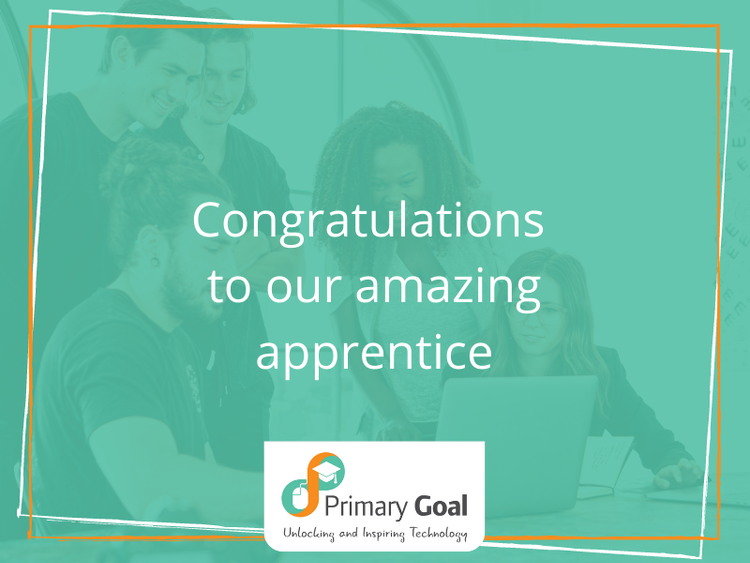 It's only natural that we have our own apprentices, and we're delighted to say that Jack Meehan, our current IT apprentice, has just received a distinction for his final exam.
We asked him about his apprenticeship and how he has found it:
WHY DID YOU DECIDE TO DO AN APPRENTICESHIP?
I wanted to get qualifications and learn about the industry of IT, however I didn't feel university was for me, so I wanted to do an apprenticeship as it felt the most worthwhile as I could get qualifications as well as experience in an IT role.
WHY DID YOU DECIDE TO JOIN PRIMARY GOAL?
I felt Primary Goal perfectly suited my situation as they value constant learning and gave me great resources to learn from. This is exactly what I needed to further my technical knowledge and will continue to learn and develop after my apprenticeship is done.
WHAT SUPPORT HAVE YOU RECEIVED DURING YOUR APPRENTICESHIP?
I received great support from Cathy (my WBC) as well as support from the technical trainers who helped with exam support, portfolio support and general technical and IT job related queries.
WHY WOULD YOU RECOMMEND AN APPRENTICESHIP WITH PRIMARY GOAL?
I would recommend a Primary Goal apprenticeship as I felt as I was advised perfectly by the WBC and technical trainers, both in exam attempts as well as portfolio advice. This has gave me the confidence to achieve passes in all 5 vendor qualifications and to get a distinction at EPA.
We're so proud of Jack.
Recent Posts
Louise.Salmon@primarygoal.ac.uk
In 2022 Primary Goal secured £580,000 of apprenticeship levy funding for St. Bart's Multi-Academy Trust which secured over 40 places
Louise.Salmon@primarygoal.ac.uk
Primary Goal's Digital Champion Apprentice Nicola Swady swept the board at the inaugural The News and Observer Series Apprenticeship Awards