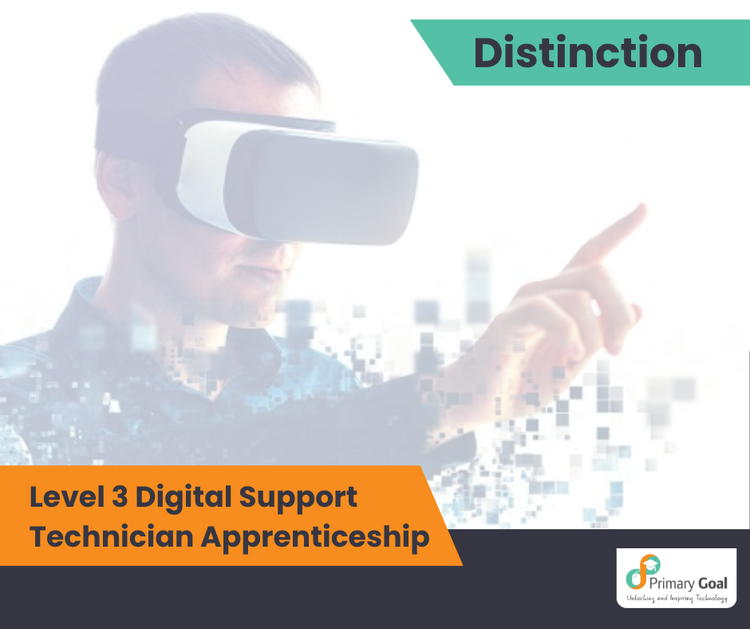 Richerd joined us as he was looking to change career paths. He's done fantastically well in his apprenticeship and is now off to university. This is his story:
WHY DID YOU DECIDE TO DO AN APPRENTICESHIP?
I left the Army 2 years ago and wanted to get into the world of IT
WHY DID YOU DECIDE TO JOIN PRIMARY GOAL?
Primary Goal were offering a Level 3 apprentice job in a field I had never heard of (Digital Support Technician – DST)
WHAT SUPPORT HAVE YOU RECEIVED DURING YOUR APPRENTICESHIP?
The support I got from Cathy and Joe was beyond what I expected, I would occasionally ask a question about the course or content and would be given a clear and constructive answer. Even if they were not programmed to teach your course that day.
I was also able to do the Networking course on top of my DST.
IS THERE AN EXAMPLE OF ONE (OR MORE) THING THAT YOU'VE DONE THAT YOU ARE PARTICULARLY PROUD OF?
I am mostly proud of my final grade I received which was more than I thought I would achieve, again this was due to the support and guidance of the team!
WHAT'S NEXT FOR YOU?
With this course I have been accepted into The University of Northampton on BSC computer science course, to start this September.
WHY WOULD YOU RECOMMEND AN APPRENTICESHIP WITH PRIMARY GOAL TO OTHER PEOPLE?
I would recommend this course and Primary Goal for anyone else who wants to get a step up in the Computing industry.
We're delighted to see Richerd go on to university and continue his learning and development.

If you would like to earn while you learn with an IT apprenticeship, browse our current vacancies.
Recent Posts
Louise.Salmon@primarygoal.ac.uk
In 2022 Primary Goal secured £580,000 of apprenticeship levy funding for St. Bart's Multi-Academy Trust which secured over 40 places
Louise.Salmon@primarygoal.ac.uk
Primary Goal's Digital Champion Apprentice Nicola Swady swept the board at the inaugural The News and Observer Series Apprenticeship Awards